Alain Briot Print of the Month Collection
Print of the Month Photograph Number Thirty Nine
Playa Reflections, Death Valley National Park
(copyright logo not present on actual fine art print)

Spectacular...I love this picture (Zabriskie Point). It's simple, colorful and artistic. This piece glows with its warming colors and draws me in.  The detail and light portray an almost three dimensional effect.

Gary Stewart, Georgetown, Texas

The Photograph
The 39th Alain Briot Print of the Month photograph is titled Playa Reflections. This image was the Companion Print to the Death Valley Booklet. The booklet sold out within a week of being announced, and I have had requests for this image ever since. I also have requests for a print larger than the 5"x7" companion print. All this, plus the fact that I personally love this photograph, convinced my to offer it as Print of the Month.

This image was created during the same photography expedition as Zabriskie Point, the April 2006 Print of the Month. In fact, Playa Reflections was created the day before I created Zabriskie Point . Just like Zabriskie Point , numerous adjustments had to be made to this image to make it match my original vision. My vision was for the sky and the reflections in the water to match each other in intensity, so as to create a mirror-like effect. I also saw this image as a composition in blue. It took a lot of work and knowledge to achieve that. For this reason, and to help you study and learn how you can do this yourself, I am including the master file for this image at no extra cost. This is the third photograph for which I am including the Master File, the two others being the April and May Prints of the Month.

A note on color: as I mentioned as see Playa Reflections as a composition in blues. In my vision it perfectly counter-balances Zabriskie Point which, to me, is a composition in oranges in red. It is probably not a coincidence that these two images were created one after the other. I have noticed that I regularly work a specific idea, or theme, unconsciously. In this case it is color -opposite colors- in different images. Sometimes it is a specific composition, a theme, or again subject matter. I am quite unaware of this while I photograph, and it is only after I return to my studio and start looking at my photographs that I start to see it.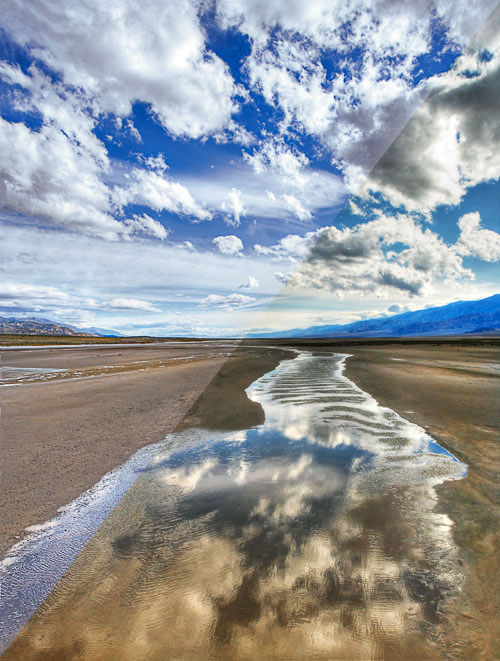 Playa Reflections
Before and after versions
The Print
This photograph is available framed and unframed. It is hand signed on the mat and the print. The frame is a handmade Mahogany Finish Frame. The moulding is truly magnificent and does emphasize the beauty of this image. The photograph I took of the moulding show very closely how beautiful this presentation is. However, these pieces looks much better in reality than a web photograph can show! You just won't believe your eyes when you receive yours. All the framing materials used are Museum Quality, archival supplies. All my work is guaranteed for life in regard to fading and damage caused by framing materials.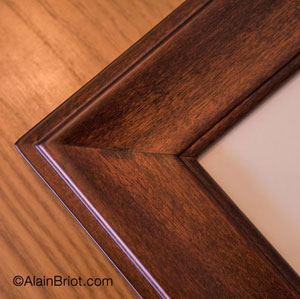 Framed pieces are delivered in a stunning mahogany finish frame.

A Unique Special offer
This photograph is priced at my special "print of the month price." Look at the table below and compare it to my regular prices to find out exactly how much you are saving through this incredible offer!

Shipping
For US orders, shipping costs are included in the Print of the Month price. US orders are shipped via US Priority Mail insured and trackable.

For International orders shipping costs are calculated based on destination. If you live outside of the US you will receive a shipping quote after you placed your order. International and overseas orders are shipped via US Airmail insured.

Packing
Each package is professionally packed and insured for its full value by us. We guarantee that you will receive your matted or framed photograph in perfect condition. If you receive your photograph damaged simply contact us and then return the damaged photograph to us. We will ship you a new piece right away upon receipt of your return piece at no extra cost.

One month, 100% Money Back Guarantee
All purchases are covered by my unique 100% Take one month to decide money back guarantee. If you are not satisfied with your purchase for any reason just return it (in original condition) for a refund or credit. Take one month to decide. And, if your photograph fades, we will replace it at no charge!

Order Now
a) email your order form. Click here to download your pdf emailable order form, fill in your shipping and credit card information and email it back 24 hours a day. You can also return your order form by mail if you like.

b) Call toll free at 800-949-7983 or 928-252-2466 and place your order directly on our toll free hotline using any credit card.

c) Order with PayPal by using the Paypal buttons at this Link.


.