Hoodoo Circle
(copyright logo not present on actual fine art print)


Mr. Briot, I wanted to let you know how happy I am with the picture I purchased from you last month. I have it hanging in my office at work so that I can enjoy it each and every day. Everyone that comes in asks me about it. They, too, agree the picture is awesome.

Cathy Crouse, Lowgap, North Carolina.

The Photograph
The 44th Alain Briot Print of the Month photograph is titled Hoodoo Circle.

The Master File for this image is provided to you on a CD which ships with the artwork at no extra cost. This master file shows you how I optimized this image.. If you are not familiar with what a master file is make sure to read my essay on this subject.

Hoodoos are pillar-like rock formations. They consist of soft, shale-like rock and occur when a harder caprock protects the shale underneath it from eroding away.

On a geological-time scale hoodoos are nothing but the blink of an eye. The represent the last state that a rock formation takes until it crumbles away into dust and sand.

On a photographic-inspiration scale Hoodoos are wonderfully whimsical formations that lend themselves to all sorts of novel compositions, because it is during the brief time before they collapse that these formations take their most artistic appearances.

I photographed hoodoos on several occasions before creating this photograph. Most of my previous photographs, some of which appear on this website as well as in my new book, feature a single hoodoo, usually taking advantage of a pleasing light situation or a contrast of color.

I took a different approach with Hoodoo Circle when I decided to photograph a group of hoodoos rather than isolate one of them. My decision stemmed from a vision for this group as a dance, or a circle of hoodoos, each of them standing alone and yet connected to the others by the circular pattern that they compose. I purposefully decided not to include the sky to keep the range of contrast within the scale of the other tones in the image. I also decided not to include any direct light in the image for similar reasons.

However, the sunset light bouncing back from the cliff is visible onto some of the hoodoos to which it imparts a golden glow. This glow is particularly visible on the foremost and tallest hoodoo.

The variety of shapes displayed by the hoodoos in the circle create an enthralling visual variation that does not rely on composition. In regard to composition I decided not to include a prominent foreground because I wanted the image to exist on its own content and not be forced into a near-far relationship which, to me, would have been distracting and unnecessary.
The Print
This photograph is available framed and unframed. It is hand signed on the mat and the print. The frame is a handmade Mahogany Finish Frame. The moulding is truly magnificent and does emphasize the beauty of this image. The photograph I took of the moulding show very closely how beautiful this presentation is. However, these pieces looks much better in reality than a web photograph can show! You just won't believe your eyes when you receive yours. All the framing materials used are Museum Quality, archival supplies. All my work is guaranteed for life in regard to fading and damage caused by framing materials.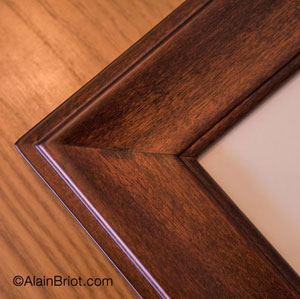 Framed pieces are delivered in a stunning mahogany finish frame.

A Unique Special offer
This photograph is priced at my special "print of the month price." Look at the table below and compare it to my regular prices to find out exactly how much you are saving through this incredible offer!

Shipping
For US orders, shipping costs are included in the Print of the Month price. US orders are shipped via US Priority Mail insured and trackable.

For International orders shipping costs are calculated based on destination. If you live outside of the US you will receive a shipping quote after you placed your order. International and overseas orders are shipped via US Airmail insured.

Packing
Each package is professionally packed and insured for its full value by us. We guarantee that you will receive your matted or framed photograph in perfect condition. If you receive your photograph damaged simply contact us and then return the damaged photograph to us. We will ship you a new piece right away upon receipt of your return piece at no extra cost.

One month, 100% Money Back Guarantee
All purchases are covered by my unique 100% Take one month to decide money back guarantee. If you are not satisfied with your purchase for any reason just return it (in original condition) for a refund or credit. Take one month to decide. And, if your photograph fades, we will replace it at no charge!

Order Now
a) email your order form. Click here to download your pdf emailable order form, fill in your shipping and credit card information and email it back 24 hours a day. You can also return your order form by mail if you like.

b) Call toll free at 800-949-7983 or 928-252-2466 and place your order directly on our toll free hotline using any credit card.

c) Order with PayPal by using the Paypal buttons at this Link.


.