Alain Briot Print of the Month Collection
Print of the Month Photograph Number Forty Five
Sedona Vine
(copyright logo not present on actual fine art print)

Playa Reflections is one of the most exciting images I have seen in some time.

Ed Dahlin

The Photograph
The 45th Alain Briot Print of the Month photograph is titled Sedona Vine.

I created this image during my most recent visit to Sedona, in Fall 2006. The location is a small canyon near Sedona. I have passed by this location several times before I saw a photograph there and created this image. This is the kind of photograph that cover such a small area, no more than a few square feet, that the image is very personal in nature. We are not talking of photographing the Mittens at Monument Valley here! This is not a huge vista covering hundreds of square miles. Instead, it is only a few square feet in size, and within these few square feet the careful positioning of every rock, twig and branches is crucial to the success of the composition. It took me a very long time to finalize both the composition and the tonal adjustment of this image until I felt that it evoked the feelings I had when I experienced this scene.

The Print
This photograph is available framed and unframed. It is hand signed on the mat and the print. The frame is a handmade Mahogany Finish Frame. The moulding is truly magnificent and does emphasize the beauty of this image. The photograph I took of the moulding show very closely how beautiful this presentation is. However, these pieces looks much better in reality than a web photograph can show! You just won't believe your eyes when you receive yours. All the framing materials used are Museum Quality, archival supplies. All my work is guaranteed for life in regard to fading and damage caused by framing materials.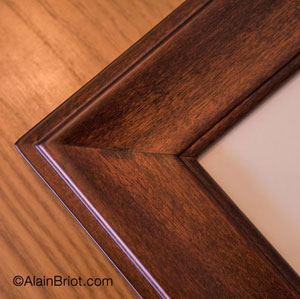 Framed pieces are delivered in a stunning mahogany finish frame.

A Unique Special offer
This photograph is priced at my special "print of the month price." Look at the table below and compare it to my regular prices to find out exactly how much you are saving through this incredible offer!

Shipping
For US orders, shipping costs are included in the Print of the Month price. US orders are shipped via US Priority Mail insured and trackable.

For International orders shipping costs are calculated based on destination. If you live outside of the US you will receive a shipping quote after you placed your order. International and overseas orders are shipped via US Airmail insured.

Packing
Each package is professionally packed and insured for its full value by us. We guarantee that you will receive your matted or framed photograph in perfect condition. If you receive your photograph damaged simply contact us and then return the damaged photograph to us. We will ship you a new piece right away upon receipt of your return piece at no extra cost.

One month, 100% Money Back Guarantee
All purchases are covered by my unique 100% Take one month to decide money back guarantee. If you are not satisfied with your purchase for any reason just return it (in original condition) for a refund or credit. Take one month to decide. And, if your photograph fades, we will replace it at no charge!

Order Now
a) email your order form. Click here to download your pdf emailable order form, fill in your shipping and credit card information and email it back 24 hours a day. You can also return your order form by mail if you like.

b) Call toll free at 800-949-7983 or 928-252-2466 and place your order directly on our toll free hotline using any credit card.

c) Order with PayPal by using the Paypal buttons at this Link.


.