• 
Adjustment Layers Mastery Seminar
•
--September 18th and 19th, 2009 --
Phoenix, Arizona
Sabino Trees before and after
The original version is on the left, the final version on the right.
Between the two is a full week of work, 20 layers and 5 master files.
The differences are subtle and all that much more difficult to achieve because of it.
Save time by learning exactly how to go from one to the other,
without having to go through the trial and error process.
Furthermore, this is knowledge you will be able to apply to any images, not just the ones used as examples on this page.
And, you will also work on your images during the seminar, because we will be using seminar participant images as examples of how to solve specific problems.
Description
The two most important aspects of Fine Art Photography are Image conversion and optimization, which is taught in this seminar, and Composition, which is taught in the Composition Mastery Seminar. Mastery of both tonality control and composition is necessary in order to create masterful photographs, photographs that express not only what was in front of your lens but also what you saw and felt as well as your personal vision for your work.

To master image conversion and optimization you need a workflow optimized for Fine Art Photography. This workflow must be precise and flexible to give you the control required to optimize your images. It must also offer an artistic dimmention to give you the opportunity to express your personal style and vision.


What approach do you follow, from the original scan or raw file, all the way to the final print, to create an expresive print and present it so you can place it along the finest prints in the world without being embarassed? What are the standards for processing, optimizing, enhancing, signing, mounting, matting and more? How should you do each of these steps?

During this seminar we will answer all of these questions and many more. We will show you the exact process that I follow to create my world-class images , print them, sign them and mat them. I will show you what approaches are standard approaches for fine art work.

However, what is important to know are the ways that work, the exact steps that I follow. This is what will save you years of trial and error trying to figure out what I figured over a lifetime of work and research. Over time I found a methodology, a series of steps, that work best. This approach can be easily customized so it first your style. During this class you will be able to find the steps that work best for you, based on my approach and on the unique needs of your images and style.

| | |
| --- | --- |
| | |
Upper Antelope before and after
20 layers, 3 different software packages were used to process this image
All the techniques I used are taught in this seminar
Partial listing of subjects that will be covered in this seminar:
1- From raw image to Photoshop file
• Raw conversion
• Scanning

2- Image correction
• Color adjustments in Photoshop
• Contrast adjustments in Photoshop
• Cropping

3- Image cleanup
• Removing dust
• Removing noise or film grain
• Removing film "blemishes"

4- Final image preparation
• Sharpening
• Upresing and downsizing

6- Printing
• Profile selection
• Paper selection
• Previewing the print on screen
• Differences between on screen image and final print
• Adjustments to the digital file after proofing

Zabriskie Point before and after

12 layers and 3 master files
During the seminar you will learn all the techniques I used to process this image
Cancellation policy
All monies are non-refundable. If you cancel participation in this seminar your registration fees may be transferred towards registration in another Beaux Arts Photography workshop under certain conditions. Transfer of fees to another workshop is not automatic and is decided solely by Beaux Arts Photography as a courtesy. We reserve the right to decide whether to transfer your fees to another workshop or not. You must register for another workshop within one year from the starting date of the workshop you originally registered for. Participants transferring from another workshop will be registered for this other workshop in excess of the regular number of participants. We can only accept two transfers per workhop. If you decide to attend a higher priced workshop, or if the workshop fee has increased, the difference in cost between the two workshops will be charged to your credit card when you notify us that you want to sign up for this other workshop. Your registration is guaranteed only when we have payment in full. We reserve the right to change this policy at any time.Workshop fees can only be transferred to another workshop and cannot be used towards purchase of a product such as mats, portfolio cases, CD or DVD tutorials, prints, portfolios, or other. Workshop fees cannot be transferred towards purchase of the Mastery Workshop DVDs. If this seminar is cancelled by us you will receive a full refund.

Liability Limitation
Beaux Arts Photography, Beautiful-Landscape.com, Alain Briot, Natalie Briot, guides, and cooperating agents aim to provide every participant a safe, educational, and enjoyable experience. We act solely as agents for you regarding accommodations, special activities, and travel, by any means, and assume no liability for any act, error, omission, injury, loss, delay, mishap, or damage to persons or property arising from any cause during the course of the workshop or in transit thereto. We can accept no responsibility for losses or additional expenses due to delay or changes in the services to be provided. We reserve the right to change our arrangements should conditions necessitate, or to cancel any aspect of the workshop due to exceptional circumstances. In the event that we deem it necessary to cancel the workshop we will provide a full refund which the participant(s) acknowledges as full and final settlement. In the event of a workshop cancellation airline tickets, car rentals and hotel reservations associated with participation in this workshop will not be refunded. We recommend you purchase refundable airline tickets and make refundable car and hotel reservations. We also recommend you carry travel and camera equipment insurance.

As there is always an element of risk in any adventure associated with the outdoors, participants must read this form carefully. This liability release will certify that the participant is physically fit and capable of participating in outdoor photography exercises in field locations, and is fully and completely aware of any associated risks created by field locations and weather.

Meeting times, meeting places and itinerary are subject to changes dictated by the weather, the road conditions and other imponderable variables that are part of doing landscape photography. We do not carry cell phones. You are responsible for being at the meeting place at the designated time and have your photographic equipment with you.

By joining this workshop I acknowledge that I have read the above information concerning responsibility and release Beaux Arts Photography, Alain Briot, Natalie Briot, their guides, instructors and any cooperating agent from any liability. Beaux Arts Photography, Alain Briot, and Natalie Briot will assume no liability for injury, illness, or loss of personal property or expenses thereof associated with workshop participation. I also acknowledge that Alain and Natalie Briot have the right to refuse service to anyone at anytime and that workshop policies are subject to change at any time .

| | |
| --- | --- |
| | |
San Juan Reflections before and after
7 layers and specific contrast-control techniques were used
This image was processed with the techniques taught in this seminar
White Sands Dune before and after
Image converted to Black and White with contrast enhanced with 4 different techniques
You will learn how to convert to black and white and optimize your converted images in this seminar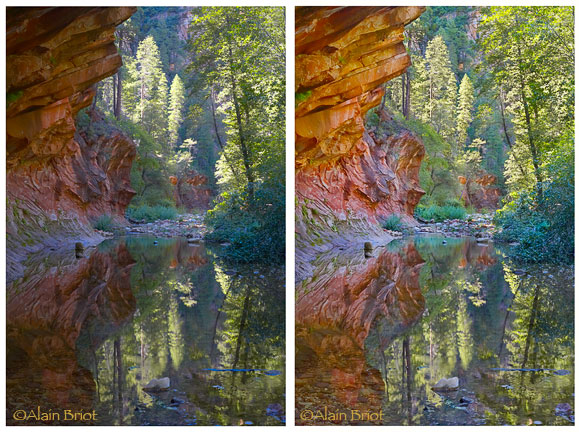 Luminous Canyon before and after

One of the most complex processing I ever completed to this day
Over 20 layers and multiple techniques, all taught in this seminar
Copyright © Alain Briot 2009
.