December 28th
The 2023 Fine Art Photography Printing Summit is open for transfers and for new registrations.

If you registered for the 2020 Summit we recommend that you take care of transfering your 2020 Summit registration now because we expect the 2023 Summit to sell out since we did not have a Summit for 3 years. When the Summit sells out you will no longer be able to transfer so be sure to take care of that today.

You need to email or call us to transfer your 2020 registration to the 2023 Summit: alain@beautiful-landscape.com 928-252-2466 or 800-949-7983. We do not charge a transfer fee for Summit 2020 to Summit 2023 transfers. However the Summit registration fee has increased between 2020 and 2003. The difference is either $100 or $200 depending whether you signed up for the Summit alone or for the Summit and the Vision Field workshop. You can pay the difference with your credit card when you call or we can send you a paypal invoice. Your registration will be complete when the difference in cost is paid.

December 24th
Natalie and Alain wish you a Merry Christmas and a Happy Holiday Season!

December 23rd
The 2023 Fine Art Photography Printing Summit is open for transfers and new registrations. We had to postpone the 2020Fine Art Summit because of Covid 19. We were unable to reschedule it for 2021 or 2022, due to concerns about having an indoor event with multiple participants. We finally decided to reschedule it for 2023. The full description of this event is available on the 2023 Fine Art Photography Printing Summit page.

December 12th
The December 2021 Print of the Month is available with a 20% discount for this month only. You can order it here.
November 29th
A selection of Gift Ideas, both for yourself or for your significant others, is available on our Online Store page. Many of these feature special offers designed to save you money. Check it out here.
November 27th
New Online Portfolios have been added to the Online Galeries section and additional images will be added in the coming days. You can take a look at them here.
New Online Portfolios
November 16th
The 2021 Holidays 224 Prints of the Month Special Offer is live! Save 20% and more by ordering one or several Prints of the Month now. There are 224 Prints of the Month to choose from!
Print of the Month Collection
November 14th
The May 2022 Antelope Canyon workshop is sold out. We have 1 seat available for the April 2022 Antelope Canyon Workshop due to a cancellation

We also have 2 seats available for the Spring 2022 Death Valley Workshop.

You can see all our workshops on the workskhops Page.
November 1st
The November 2021 Print of the Month is available here.
Abiquiu
October 14th
The October 2021 Print of the Month is available here.

September 2nd
The September 2021 Print of the Month is available here.

September Print of the Month
August 1st
The August 2021 Print of the month is available here.


October Print of the Month
July 10th
The July 2021 Print of the month is available here.

June 19th
Registration for the 2022 Little Known Northern Utah Workshop is open. Description and registration information are on the workshop page.
June 1st
The June 2021 Print of the month is available here.
May 6th
My May 2021 Newsletter was sent yesterday. If you did not receive it you can subscribe now for free by clicking the Newsletter Subscription button at the top of this page.


May 3rd
We have one opening for the August 2021 Little Known Grand Canyon Workshop.

May 2nd
The May 2021 Print of the Month is available for order on the Print of the Month Page.

April 4th
The April 2021 Print of the Month is available for order on the Print of the Month Page.

April 3rd
A new Podcast episode titled The Principles of Art is available. In this podcast Natalie and I discuss the principles of art as they apply to photography. These are the foundation on the basis of which fine art photographs are created. This Podcast is a continuiation of the previous episode about Beginners.The reason being that beginners often have not yet learned the principles of art and so create art without a strong artistic foundation. This new podcast episode is available on the Podcast Page.

April 2nd
We just announced the 2022 Spring and Fall Master Classes. You can see all the details at this link. Only one opening is available for each so if this has your name on it let us know right away.

March 20
A new Podcast episode is available. Titled Beginners this podcast focuses on what characterizes a beginning fine art landscape photographer. This is an important episode because we all start as beginners and we move forward through our study and practice of photography. This episode define a path for this journey.. This new podcast episode is available on the Podcast Page.

March 19
I do a lot of phone consulting with students on all areas of photography: field work, processing, marketing etc. Here is a testimonial I received today from Matt Nuttall:

"I have recently opened a landscape photography gallery in the UK and have just completed two 1-2-1 sessions with Alain and have also read and listened to Alain's 'Marketing Mastery' on DVD. Wow! I can honestly say that the the dvd and the 1-2-1 sessions have made a huge difference to how I am going to organise and run my gallery and how I am going to interact with my customers. They are by far the best money I have ever spent on my photography. Alain's knowledge on marketing photography is second to none and during the 1-2-1 sessions he has suggested countless areas for improvement and offered exceptional advice based on his vast experience. I will definitely be booking a third 1-2-1 very soon. The DVD includes an abundance of material not included in his fantastic book 'Marketing Fine Art Photography' and I have no doubts that it will make a huge difference to the income I will earn from my photography. Today I used techniques learned from Alain to secure a £1600 sale over the phone which I wouldn't have made without Alain's advice. I thoroughly recommend Alain's DVD''s and 1-2-1 sessions.

Matt Nuttall, Eventing Photography, UK

March 13
A new Podcast episode is available. Titled After the Pandemic this podcast presents our pandemic activities. Natalie and I talk about the different things we have been doing, why we had to interrupt our 2020 workshop program, and how we are starting to teach workshops again in 2021. This new podcast episode, the first in over a year, is available on the Podcast Page.
March 12th
Registration is now open for the 2022 Death Valley Workshop and the 2022 Eastern Sierra Nevada Workshop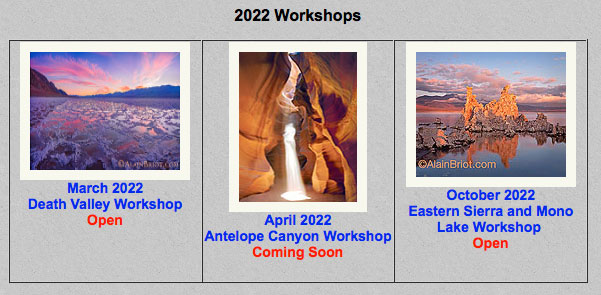 March 11th
Two new 2022 Workshops will be open for registration tomorrow.
Email us to get on the waitlist: alain@beautiful-landscape.com
March 10th,
The March Print of the Month is available.
February 18th
New images were added to the White Sands Portfoliotoday.

February 1st
The February Print of the Monthis available.

January 14th
I rebuilt the Video gallery page with new videos. These include video Print Reviews, Mastery Workshop samplers, Raw Converters reviews, Summit Slideshows and Field Photography videos. You can see this new Video gallery here.

January 7th
I have been adding new image Portfolios to the free online galleries over the past few days. The only one I still have to complete is the 2020 White Sands Portfolio.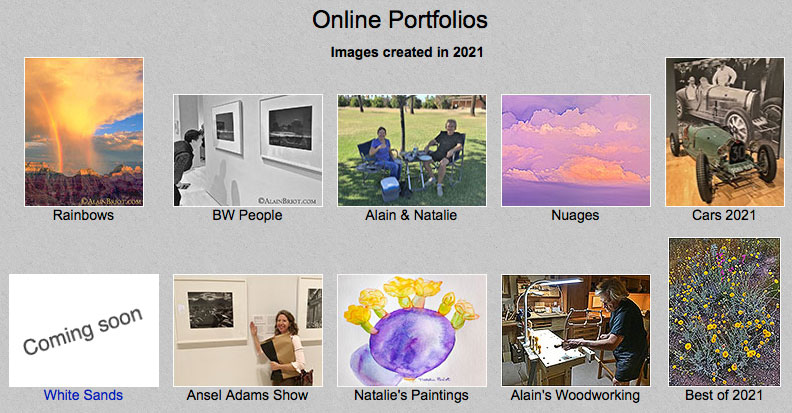 January 6th, 2021
I have completed the creation of new 2021 versions for all eleven Mastery Workshops on USB/DVD as well as of the Summit Recordings, the Marketing Seminar Recordings, the Master Files collections, the Podcast and Summit collections and all the other tutorials available on USB or DVD.

These new 2021 versions are necessary because Apple and Adobe have ended support for Flash. New orders will be shipped the new versions. If you own a previous version and you no longer have Flash installed on your computer, or if you have problems playing the Audio and Video files featured in the Mastery Workshops, an update notice is available HERE. This notice features new Acrobat settings that can help you remedy these issues without replacing your Mastery Workshops.

January 3rd, 2021
The January 2021 Print of the Month is available.

January 1st, 2021
Natalie and I wish you a Happy New Year!
Happy New Year from Natalie and Alain !
December 30th
I am hard at work creating new versions of all the Mastery Workshops on USB / DVD so that they run on the latest release of Adobe Acrobat and on the latest system software: Mac Big Sur and Windows 10. All the files and links have to be changed. Because there are Eleven Mastery Workshops this is a time consuming operation. I am also creating new versions of the Summit Recordings on USB/DVD, the Master Files on USB/DVD, the Podcast Collection on USB/ DVD and more. So far I have completed the following:
- The Printing Mastery Workshop on USB/DVD
- The Advanced Composition Mastery Workshop on USB/DVD
- All the Summit Recordings on USB/DVD from 2006 to 2009
- All the Master Files on USB/DVD
- All the Marketing Seminar recordings
- The Podcast Collection on USB/DVD

I will add to this list as I continue working on the Mastery Workshop tutorials. I have nine more new Mastery Workshops versions to create.
If you own one or several of these tutorials the new versions will be available for 10% of the regular price including US shipping: $95. Just email us to let us know which Mastery Workshop, Summits, Master Files or other you want us to ship you: alain@beautiful-landscape.com
if you do not own one of these yet click here to see the entire collection now.

December 27th: New Online Student Image portfolios
The last Online Flash Image Portfolios have been removed and replaced with new html Portfolios viewable on any device.

Flash was terminated by Apple and other vendors making its use obsolete. Most of my remaining Flash Image Portfolios featured student images created during our workshops. If you submitted photographs for the old Flash Portfolios you can see your images in the new Online Portfolios at this link.
I will be adding new student images to these Online Portfolios so if you attended one of our workshops and want to see your images featured here simply email me a selection -- no more than 10 images, 600 pixels wide or tall maximum dimension -- to alain@beautiful-landscape.com